---
2021 / 106m - USA
Action, Crime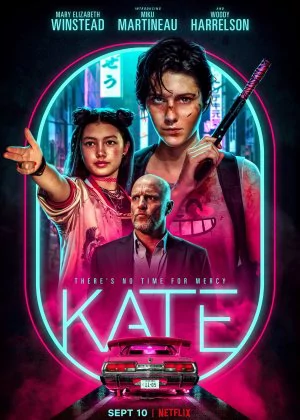 A contract killer in Japan gets a little help from a local kid. Sounds a lot like Wasabi, which is probably a pretty good orientation flick if you want to know what Kate's about without watching any trailers. Director Nicolas-Troyan has a somewhat rough time keeping his film on the rails, but action fans are sure to find some things to like here.
Read all

Kate is a hardened professional, but when one of her hits goes awry she finds herself in an impossible situation. She is poisoned and has only 1 more day to live. She won't go down without a fight though and vows to take revenge. With the help of the mark's niece, she tries to find his location before time runs out for her.

The set design is by far the most remarkable part of Kate. The action looks a bit stiff, because both Winstead and the cinematographer/choreographer appear to be ill at ease with the material. Asano and Kunimura are underused, the rest of the cast isn't that memorable. So yeah, you get a killer running around in neon-lit Tokyo. It's a good thing they didn't drag things out unnecessarily, making sure it works as action filler. It had the potential to be a lot better though.
---
2016 / 114m - USA
Action, Adventure, Fantasy