Solid pieces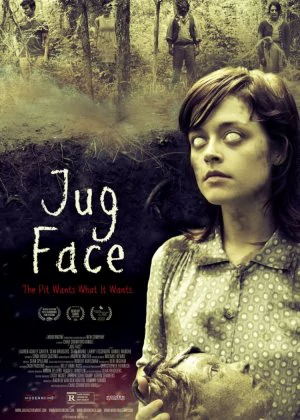 After an unusually big peak in the late '00s, the horror genre is collapsing on itself once more. Less horror films are being made, less money is given to new and upcoming directors and safe a few big shots who survived the somewhat sudden implosion (I'm looking at you James Wan), it has become difficult to build a name for yourself directing horror films. But there's also an upside to all this doom and gloom. With all the mainstream attention moving away from the horror scene, room is being made for people that want to take the genre in new directions. Rather than retell the same story with more gore or better special effects, new talent is experimenting with new ideas and approaches, which will ultimately lead us to the next horror renaissance.
Read all

Jug Face is one of those interesting new horror films that shows a lot of promise. When it was first released I let it pass by because it came with quite a lot of negative criticism, but over the pass few months I've come to realize that it's better to trust he recommendations of a select few than the opinion of the masses, especially when horror cinema is involved. And so I gave Chad Crawford Kinkle' first-born a fair chance. I'm pretty glad I did.

While Jug Face is a unique film that stands well on its own, the link with producer Lucky McKee's most infamous work is still a good indication of what to expect. Not that it begs for direct comparisons with The Woman, but it seems to reside in that same corner of the horror spectrum. It's not easily classifiable as one of the common horror subgenres, but if you like the occult, mixed with some redneck weirdness and some general unpleasantness than Jug Face is definitely worth a gamble.

The film revolves around a mysterious pit. Local folk believe that the pit has healing powers, as long as they keep sacrificing people to keep it happy. Not just any random sacrifice will do though. The community is guided by the jug maker, a somewhat backwards guy who produces jugs in the form of the pit's next sacrifice. It's a rather unlikely setup, ripe with backwater superstition, but Kinkle makes it work.

There's a little gore and some freaky, semi-demonic action, but that's not where the true horror resides. The creepiest facet of Jug Face is its little community, which has built its entire universe around the pit lore. Regardless of the true nature of the pit, the eagerness of succumbing to the gruesome, ghastly rituals that surround it is what got to me the most. As freaky and outlandish as these people may look, there's a sense of realness that transcends classic horror tropes, making it that much scarier.

Technical credits deserve a thumbs up too. While you shouldn't expect a slick Hollywood-looking film, the editing is sharp, the setting is used to good effect, the gore is convincing and the few special effects that are used never feel cheap or out of place. The soundtrack adds a lot to the film too. Slow, distorted guitars give the film a dark, vibrant and uncomfortable atmosphere. And even the acting is far better than expected, with Carter and Fessenden performing well above genre standards.

Jug Face may lack a bit of finish here and there, but seeing this is Kinkle's first film that's hardly a big issue. Kinkle sculpted a dark, powerful and unsettling little horror film that keeps the tension high throughout its entire running time. The pacing is rather slow and those expecting a simple genre flick might be disappointed by Kinkle's less defined take on the horror genre, but fans with a deeper love for horror cinema that reaches further than the comfort of simple genre clichés should definitely give Jug Face a chance. It's films like this that make sure the genre still has a future.