---
2018 / 77m - USA
Horror -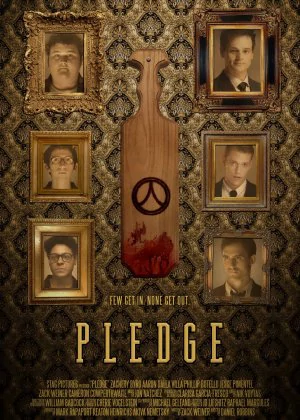 Not the first film about hazing, though I don't think I've ever seen it done as a horror film. That's a bit of surprise, as the topic really is a perfect match for the genre. As far as consensual torture goes, there really isn't much else that comes close. It's a smart pairing by Robbins, who keeps the rest of the film simple and concise.
Read all

David, Ethan and Justin are your stereotypical nerds. A trio of socially awkward guys who don't really belong in a fraternity. After several rejections, they get an invitation to go to a special event. Seeing it as their last chance, they oblige and end up at a strange house where a big party is about to get started.

Pledge is a very straightforward film. After a short introduction the film quickly turns dark and before you know it the whole situation is spinning gleefully out of control. Performances are solid, the mood is on point and the ending is pretty gruesome. A lean horror film, but very effective and trimmed of all the unnecessary excess.