---
2015 / 31m - Sweden
Action, Comedy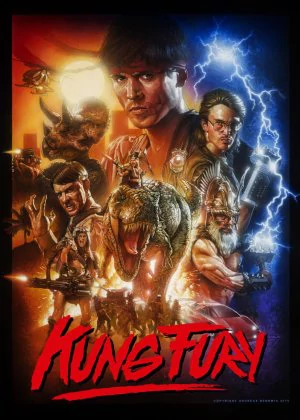 Somewhat of an internet cult hit, which is no surprise, since Kung Fury is drenched in internet humor. Quality isn't a goal here, it's just an endless string of basic references on top of some cheap cut-and-paste work. The film is a 30-minute-long meme that riffs on the 80s and all its kitsch.
Read all

The existence of a plot is debatable. There's some kind of story that takes the film from a to b, but it's really just a summary of nonsensical plot points that allow Sandberg to take on whatever cheesy nonsense he can think of. The core story is about a martial arts cop who travels back in time to killer kung fu Hitler, just don't expect it to make any sense.

This might be fun for people who loved the 80s, or who appreciate lack of quality in some kind of ironic way. I found the parodies bland and uninspired, the execution horrendous. Its cheapness feels lazy, the comedy is pure fan service and though it only lasts 30 minutes, I was fed up with Kung Fury 5 minutes in. Ugh.