---
Aleksandr Nevskiy
1938 / 112m - Soviet Union
Drama, War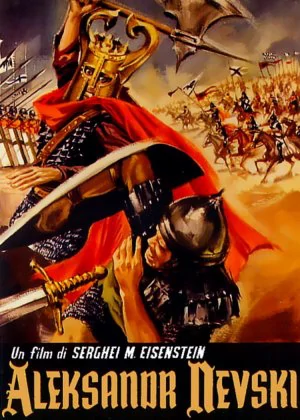 As much as I see sound as an almost essential part of great cinema nowadays, the introduction really killed the medium for at least a decade (maybe even two). Even visual innovators like Eisenstein were completely lost after its introduction, which a film like Alexander Nevsky perfectly illustrates.
Read all

The film itself is a bit of basic propaganda, celebrating Russian war efforts of the past. The attempted invasion of the Germans (led by the Teutonic Knights) was halted by Alexander and his army. The film tells of the 13th century battle between the two camps, the winner shouldn't really come as a surprise (for those not familiar with the history).

There's a lot of conversation, the overacting of silent cinema is still very much present and the editing is toned down compared to Eisenstein's earlier work. The battles are long and uneventful and the characters dull and caricatural. Not a great film, Eisenstein made better ones.