---
2012 / 62m - USA
Comedy, Drama - Animation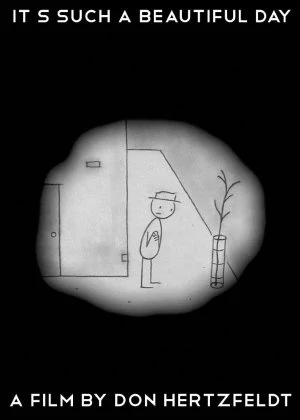 Don Hertzfeldt may not be well known to the general public, his short animation Rejected did the rounds and became an instant cult favorite. With simple animation techniques and a wacky, often absurd sense of humor he courted his audience, setting them up for an immense pay-off in the second part of the short. It seems Hertzfeldt set out to recreate that same feeling with It's Such a Beautiful Day, only on a much bigger scale.
Read all

Even thought It's Such a Beautiful Day is listed as a 60-minute film, it's actually an aggregate of three different short films (Everything Will Be OK, I Am So Proud of You, and It's Such a Beautiful Day) stitched together back to back, all involving the same main character. The separate shorts were already extremely detached and fragmented, so pasting them together to create a big one hour feature didn't pose that much of a problem.

Hertzfeldt's sense of humor is a little hard to describe. It's a combination of mind-bending logic, plain absurdity, utter mundanity and astute, recognizable observations. A bit like the beginning of Amélie, only a lot more cynical and absurd. Still, there's warmth in there, hidden among all the other weirdness that's flying towards you. There's also a more philosophical layer that starts to shine through around halfway each short, making it an even stranger experience.

The only problem I had with It's Such a Beautiful Day being a feature film is the lacking technical side of things. The simple art style works for Hertzfeldt in his shorter work, but over a timespan of 60 minutes it becomes boring real fast. The animation itself is surprisingly livid and emotive, but looking at black and white almost-stick figures left me a little wanting. The DIY special effects and poor quality stop-motion real-life backgrounds didn't make things any better. And it's not that I think Hertzfeldt lacks the technical skills, the details in the animation betray a much higher skill level, it's just that I don't really agree with the choices he made here.

The soundtrack on the other hand is a clear asset, together with the inventive editing it makes for a fun, challenging yet rather inaccessible experience. Add to that Hertzfeldt monotonous and dry voice-over delivery and you'll quickly see why his films are not intended to be enjoyed by a large audience. Still, It's Such a Beautiful Day is a million times better than the average CG animation drivel that usually comes out of the US.

If you're looking for something different, It's Such a Beautiful Day is a solid introduction into the warped brain of Don Hertzfeldt. And if you think the 60-minute format is a bit too demanding, you can always watch the three shorts separately without missing out on anything except the full-length experience.