---
2020 / 113m - UK
Thriller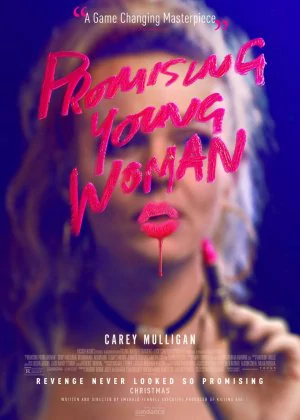 Fennell's promising feature film debut is rightfully making some waves. There's quite a lot going on here, but Fennell juggles everything like a pro. It's one of those films that retains its mystery until the very end, though it lacks that little extra grit that could've turned it into a real masterpiece.
Read all

Cassie still lives with her parents and works a boring day job in a local coffee shop. She was well on her way to become a doctor, but she dropped out of school and lost all will to make something of her life. At night, she frequents bars and pretends to be drunk, trapping unsuspecting predatory men and giving them a good scare.

Promising Young Woman has everything to be a cynical, gutsy and relevant revenge thriller, but it feels like Fennell keeps pulling punches. There isn't really one identifiable thing that goes wrong, it's more like a series of missed opportunities that make it feel like the film didn't live up to its full potential. Still, some fine performances, strong cinematography and cheeky twists (not a big fan of the massacred pop songs though) make this a very worth debut.