---
1988 / 101m - USA
Documentary, Crime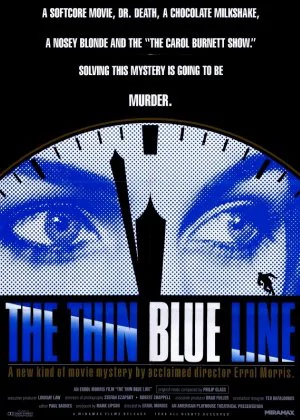 This feels like the mother of all true crime docs. Which is why this probably had a bigger impact back when it was first released. I'm not a big fan of all this true crime stuff, but from what I've seen The Thin Blue Line isn't all that distinctive anymore and these kinds of docs are a dime a dozen nowadays.
Read all

The story revolves around Adams, who supposedly shot a police officer in cold blood when he came up to him to check his car. The more you find out about the story, the more it seems law enforcers were looking for a scapegoat rather than the true culprit. No surprises there then.

There's a lot of talking heads here, which makes this a pretty static documentary. Reenactments aren't always an improvement, but they can help to visualize the story. The case itself is interesting enough, but one I've heard so many times before that it lacks the shock it would've had if I'd seen it 30 years ago. Not bad, but just not that remarkable anymore.
---
2003 / 107m - USA
Documentary