---
1956 / 98m - USA
Sci-fi, Adventure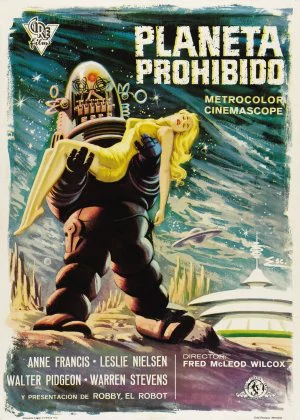 One of the first big sci-fi movies, which became a template for the many films that would follow in its wake. The film certainly has a few inspired moments and designs, but most of it feels like a dreary theater piece on a cheap stage. No doubt fun if you care about historic significance, but it was a bit too kitsch for me.
Read all

A starship crew is traveling to a distant planet to check on a group of settlers that left twenty years earlier. When they arrive, only two survivors remain. And a robot who calls himself Robby. The crew are dying to speak to Morbius and his daughter to learn what happened to the settlers.

The crummy sets and costumes make it really difficult to get into the sci-fi vibe, the flat performances also don't help. The plot isn't very interesting either, but some designs (like the robot) are still pretty cool and there's at least some minor appeal to the overall level of kitsch. Not the worst, but far from great.