---
1999 / 97m - USA
Comedy, Romance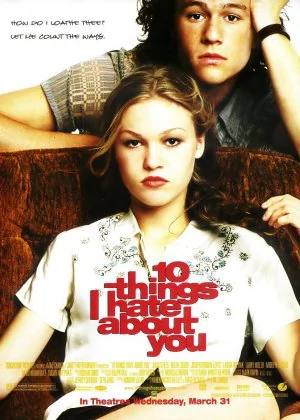 A pretty basic high school romcom with some above average performances that make it stand out, if only just a little. I'll readily admit that I don't care at all about these US high school flicks, they have practically no chance of winning me over, so the fact that I found this bearable might mean it's actually pretty decent.
Read all

In order to get to Bianca, the girl of his dreams, Cameron needs to find a date for Bianca's asocial sister, as her dad won't let her go out before that. Cameron's eye lands on Patrick, the school criminal who has no interest in any of his classmates whatsoever. I hope you can guess how it goes from there.

It's the banter between Ledger and Stiles that makes this film rather fun. The plot is bland, the music is terrible and the high school setting has been done to death, but at least there a somewhat sarcastic undertone that gives it a novel twist. Not a great film, but considering the type of film this is, it could've been a lot worse.