---
1936 / 94m - USA
Comedy, Romance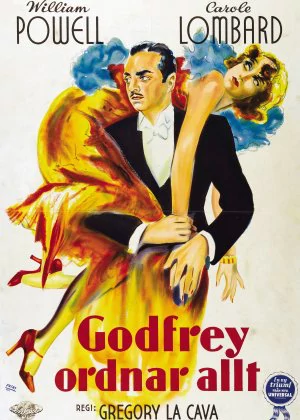 A pretty basic 30s romcom. There's a lot of whining and fast banter, a simple plot and a ton of dramatics. But the tone is light, emotions are fleeting, and though people can't stop talking, the lack of meaningful communication makes things a lot harder than they need to be. Genre fare in other words.
Read all

Trying to beat her sister in a lowbrow socialite game, Irene drags Godfrey, a vagrant she met on the street, with her to a party. Afterwards she feels bad for Godfrey, and she hires him as her personal butler. The two get along well and their relationship develops beyond their professional bond, but Godfrey hides a complex past.

Performances are decent, so is the pacing, but you have to be a big fan of the spitfire dialogues so typical for screwball comedies to enjoy this film. It all feels pretty expected and by the numbers. It's not as grating as some other films in the genre, but I don't think I'll remember much of this one in a couple of days time.
---
1947 / 104m - USA
Comedy, Musical