---
Ballada o Soldate
1959 / 88m - Soviet Union
Drama, Romance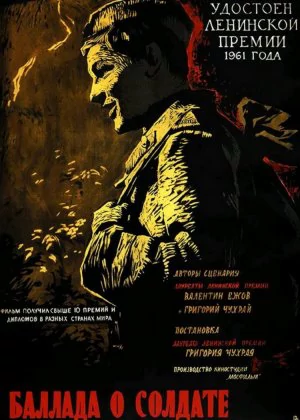 Russian classic that felt a lot less remarkable than many of its peer. Not that I'm a big fan of Russian cinema, nor their classics, but even I can't deny they've made some very particular, often unique films throughout the years. In comparison, Ballad of a Solider came off rather plain and pedestrian, a simple war drama where the protagonists just happen to be Russian.
Read all

After destroying two German tanks, private Alyosha is branded a hero. Rather than accept a medal, he asks for leave so that he can visit his mom. His wish is granted, but his voyage home is not without trouble. He meets up with various people as he tries to get to his destination in time.

Performances are bland, the cinematography is rather dull and the drama is extremely predictable. I couldn't really find the appeal of this film, nor how it earned its status as one of the big classics. At least the film isn't too long, but after about 30 minutes I grew tired of it and it didn't get any better after that. Disappointing.