---
Den Skyldige
2018 / 85m - Denmark
Thriller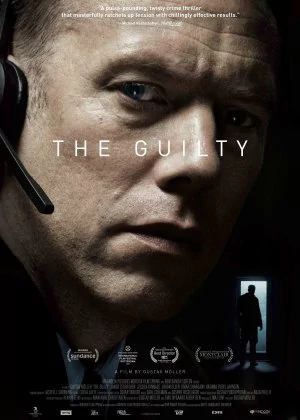 A pretty minimalistic thriller. The Guilty is one of those single-location films that shows none of the action. It's an interesting concept that has been done before, but never really became a niche of its own, so whenever a director takes a swing at it, it still feels quite fresh and different.
Read all

Asger is working the emergency calls, when he gets a call from a woman who is being kidnapped. Her assailant is setting next to her in the car, and she addresses Asger as if she was speaking to her daughter. Asger immediately understands that the situation is critical, and will do anything to rescue the woman.

It's clear from the start that the film is about to stick with Asger throughout the entire runtime. Not knowing what exactly is going on the other end of the line is what drives the tension, still director Asger could've done more with it. Performances are decent but nothing special, the added drama feels a tad too much like filler and the ending is a bit silly, but the foundation is pretty solid and the short runtime makes sure the film never drags on for too long. Decent.