---
Korede Iinoda! Eiga Akatsuka Fujio
2011 / 111m - Japan
Comedy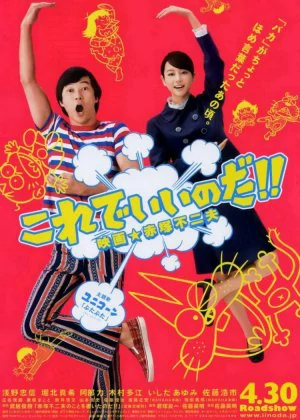 A biography about Akatsuka Fujio, pioneer of the gag manga. The film is in line with Fujio's style and vibe, so don't go in expecting a very solemn or factual biography. That Is the Way is a more typical Japanese comedy that just happens to detail one of the more colorful classical mangakas.
Read all

While Fujio is central to the film, That Is the Way approaches him through his editor Hatsumi, a young girl who is assigned to work with Fujio on her first job. Hatsumi is a confident woman who dreams of working on mangas for girls, but after being assigned to Fujio she finds it quite hard to leave his team behind.

This is a film that no doubt benefits from knowing Fujio's work (which I do not), but the style of the film makes it abundantly clear what type of manga he drew. Asano and Horikita deliver solid performances and there are some fun, memorable scenes, but it's a bit too basic to really stand out from the crowd.