---
2015 / 103m - Taiwan
Animation, Fantasy, Sci-fi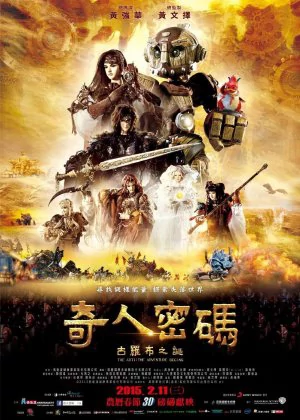 The cool thing about cinema is that even though you may have seen 6000+ films, from time to time something completely unexpected will cross your path. The Arti: The Adventure Begins is such a film. I wasn't at all aware that there was a puppet animation scene in Taiwan, let alone that they had made a film that set out to blend traditional puppet animation with CG. The result is a little uneven, but the good bits royally outweigh the bad ones.
Read all

Arti reminded me a little of Klarulund's Strings, though it never quite reaches that same level of quality. Both films are very successful in creating an intriguing lore though, bringing to life a sprawling world that is fun and exciting to explore. The Arti follows Mo, Tong and their wooden robot, Arti-C. Arti-C is a parting gift of their late father, who was murdered for creating the robot. He used a mysterious power called Origin to construct it, which Mo and Tong are trying to locate in order to keep their robot alive and kicking.

The puppet animation varies between somewhat flakey and downright impressive. Some of the shots, especially the ones where the puppets are running, look a little odd and awkward. But the fighting sequences and the more detailed close-ups are absolutely stunning and betray some superb craftsmanship. The use of CG is equally divisive. When used for backgrounds and smaller effects it's nice and effective, but the CG characters often clash with the traditional puppets. Those puppets are by far the main attraction of the film, meticulously sculpted and incredibly detailed, they are a joy to look at when brought to life.

The film faces some minor pacing issues, with certain scenes passing by a little too quickly. The soundtrack isn't quite up to par either, especially the Chinese pop songs can be a little unsettling considering the tone and setting of the film. On top of that, the dub could use some work too. Some voices are fine, others are a little too outspoken. It's the combination of these smaller issues that hold the film back just enough to keep it from being truly great.

But if the title is to be believed, this is only the beginning of a greater adventure. I for one would love to see a couple of sequels. I'm sure the team behind Arti learned a lot from shooting this film (just watch the end credits, it's pretty cool to see the behind the scenes footage), knowledge that can be put to good use to improve possible follow-ups. Even so, fans of puppet animation (or just people looking for something different) will have a blast with Arti. It's a great first effort with a lot going for it, it just lacks a little polish.