---
Omoide no Mânî
2014 / 103m - Japan
Animation, Drama, Mystery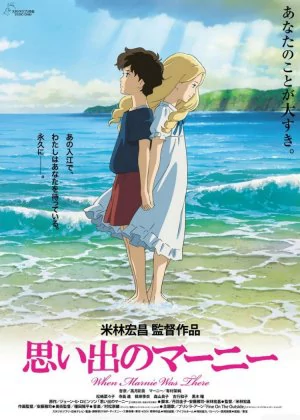 You can't help but feel a little bad for Hiromasa Yonebayashi. Kari-gurashi no Arietti was the first feature film he ever directed, and while not one of Ghibli's absolute best it was a more than accomplished film that promised Yonebayashi a bright future under the wings of Miyazaki and Takahata. But then, out of nowhere, they both announced their retirement. To make things even worse Ghibli decided soon after that Omoide no Mani would be their last feature film (at least for now).
Read all

Now Yonebayashi's second feature is not only the successor of two of Japan's most lauded animators/directors, it may also be Studio Ghibli's feature film swan song. Clearly Omoide no Mani (When Marnie Was There) wasn't equipped to shoulder that much responsibility. It's somewhat of a niche film (or at least not as broadly accessible as Ghibli's other work) and it carries the marks of a director still looking for his own tone of voice. It's a good film, but not what you'd hope for when faced with the idea that this might be Ghibli's last.

Omoide no Mani seems to be aimed at a younger, female audience. Not that it's overly childish, but the setting with the abandoned marsh house, the secret diary and the play dates between Marnie and Anna feel like a blend of classic Ghilbi and classic fairytale material. There is still plenty to like for adults, but the core of the film felt a little flimsy at times, leaving me just a tiny bit bored and wanting. The middle part in particular could've used some extra spice.

It's still a true to heart Ghibli film though, so there's a basic level of quality that is just impossible to ignore. The animation is magnificent, the voice acting is right on the mark and the hot, summery, outdoors vacation vibe embedded in its roots the perfect cure for a rotten, rainy spring day. Add a young, female protagonist and the traditional break away from city life and lifelong fans will feel right at home. The CG isn't always seamless and the city scenes feel a little dull compared to the country side, but that too is vintage Ghibli.

If Omoide no Mani had lived on to become a filler film in the Ghibli catalogue then I think it would've slipped by without a hitch. But with Kaze Tachinu and Kaguyahime no Monogatari still fresh in mind, knowing this might very well be the final Ghibli film, people are going to watch this one yearning for something more substantial. Just a few weeks ago Yonebayashi announced that he has left Studio Ghibli, so hopefully he will find a new home to further develop his talent. He has everything to make it on his own and given the time he could become one of Japan's top animation directors. Omoide no Mani is a fine film, but in this case that simply wasn't good enough.