---
2014 / 95m - USA
Animation, Adventure, Fantasy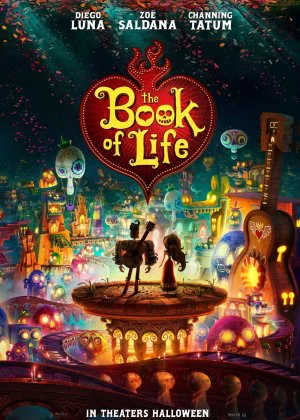 It surprises me to say, but 2014 was actually a pretty decent year for US animation. Sure enough there was still plenty of crap floating around, films like How to Train Your Dragon 2 and The Lego Movie continue to stifle the potential of the genre (and with films like Penguins of Madagascar and Minions coming in 2015 that isn't going to change any time soon), but at least there was some solid counterweight available. I already mentioned The Boxtrolls, The Book of Life should be added to that list.
Read all

The Book of Life is produced by Guillermo del Toro and helmed by first-timer feature film director Jorge R Gutierrez (who does have a rather lengthy history in the animation industry). While the influences of roughly 20 years of US CG productions are clearly visible, del Toro and Gutierrez bring a festive Mexican vibe to the table that helps to differentiate this jolly animation from the rest.

Give the film five minutes to settle down. The intro is a little lame, but once the "book of life" story actually starts the beauty of this production quickly transpires. The art style is cute, colorful and unique, sporting smart character designs and amazing environments. Once the characters are transported to the Land of the Remembered it gets even better, evoking memories of the parade sequence in Kokaku Kidotai 2: Inosensu.

But this is a US production, so sadly the film never spends enough time making the most of its beautiful surroundings. It's a bit like constructing an awesome instrumental piece of music and then drowning it out by adding vocals. While there's plenty to admire in The Book of Life, characters keep yapping away and everything is focused on plot progression instead of taking the pacing down a few notches so people can enjoy the scenery. I understand The Book of Life is primarily aimed at kids, but a film like Chasseurs de Dragons did a much better job balancing the two.

Still, The Book of Life is a big step up from other popular US CG animation features. It's a fun film, aimed at younger viewers but with plenty to enjoy for older animation fans. The story is a bit basic, not everything is as funny as it should be (Ice Cube's character didn't really do it for me) and you can pretty much guess how it's going to end, but the flashy Mexican vibe and the amazing art direction more than make up for that. Hopefully other studios will see this as a clear sign that there is a world beyond cheap comedy and plastic animation aesthetics.