---
2016 / 87m - USA
Comedy, Music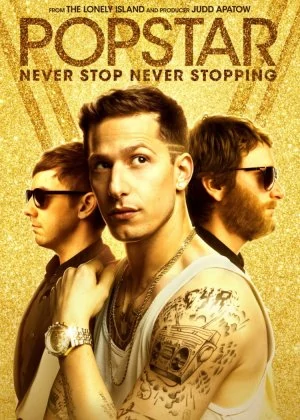 A hilarious mockumentary that suits The Lonely Island crew perfectly. It helps to be familiar with their particular brand of comedy, on the other hand this is without a doubt one of the best introductions into their work. Popstar is slick, dense and committed to a level you rarely see in comedy films.
Read all

The film works on three levels. First of all, it is a pretty straightforward but effective parody of the pop documentary genre (think Justin Bieber's). Then there's the comedy of the songs themselves, which features some very nice stabs at the randomness and shallowness of pop music. But what really sets this apart is the fact that the songs are actual, bona fide, catchy pop songs. That's different from acts like "Weird Al" Yankovic or Flight of the Conchords, who get a bit doubty when the comedy element is stripped away.

Taccone, Schaffer and Samberg are great, the supporting cast is ace too and many of the cameos are priceless, not in the least because many of them are not afraid to make fools of themselves. The only thing that keeps me from giving is a higher mark is that the second half doesn't feel quite as sharp, but that's just a minor glitch in an otherwise great film.