---
1999 / 100m - USA
Sci-fi, Thriller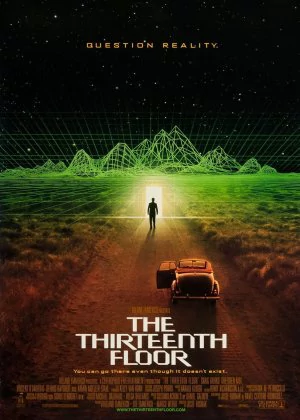 This one was a bit of an unknown for me. I'd never heard of the film before, but it received some decent feedback, and it was just a click away on Netflix. Not quite sure what people were thinking, The Thirteenth Floor is a poorly realized sci-fi flick that fails on pretty much every level.
Read all

Douglas' colleague Fuller leaves an important message behind in a digital world that is made to resemble the '30s. With Fuller gone, Douglas has no other choice than to enter this world and start his own investigation. It doesn't take long before he realizes this world and its secrets run deeper than he could ever have imagined.

Bullshit story aside, the choice to go for a '30s universe is ridiculous and takes away from the overall sci-fi feel. The performances are absolute crap, the film looks dirt cheap, the pacing is all over the place. Add to that a disappointing finale, and all that's left is some very basic, bland genre filler. Not good.
---