---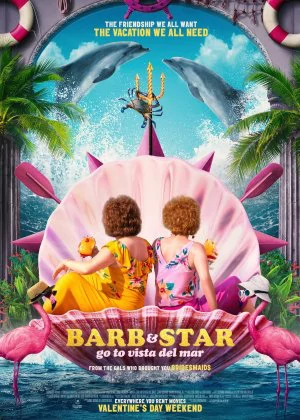 100% comedies are a rarity nowadays, so that was all the reason I needed to seek out this film, even though the promo material made it look a little dim and scruffy. No doubt a deliberate ploy by director Greenbaum, who manages to hide the true crazy of Barb and Star for another 20 minutes when the film starts, but then goes all out.
Read all

The premise (two burnt out ladies whose lives have ground to a halt go on a trip to reignite their shimmer) sounds like a recipe for some solid but safe comedy, but underneath that cover hides a film that isn't afraid to surprise, take risks and go all in. There's a bit of a Lonely Island vibe here.

Wiig and Mumolo's performances are perfect, the styling is hilarious, the musical bits supremely camp and the comedy is full of surprises. It's a shame the film's 15 minutes too long, Dornan also isn't as funny as he should've been, but other than that there's a lot to love here. Hopefully Greenbaum is allowed to go forward in this direction, because the world sure could use more films like this one.