---
Insensibles
2012 / 100m - Spain
Fantasy, Horror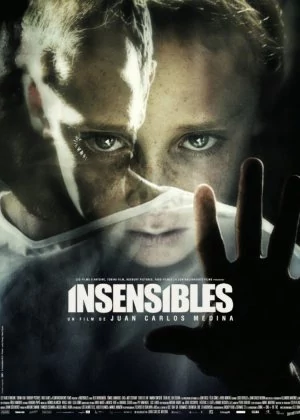 Spain. There is no other country where drama and horror are so often linked together. It's not that Spanish directors can't produce straight-up horror films ([rec] 2), but often they seem to prefer a more stylish approach, blending horror with drama (and sometimes a dash of mystery). Insensibles (Painless) joins films like El Orfanato, Los Ojos de Julia and Intruders, though it can't quite compete with the best.
Read all

Juan Carlos Medina takes a flying start though. The first five minutes of Insensibles are extremely promising. The film tells of a group of young children who are unable to feel pain. Sounds like a fair deal, until people around them start to realize that the children can't even grasp the concept of pain, constantly hurting themselves and other kids in the neighborhood. To protect the village they lock up the group, keeping them hidden from the outside world.

A parallel story develops about a man who needs a bone marrow transplant to save his own life. When he confronts his parents it turns out the man is adopted. Cue a long and mysterious search that will eventually connect both stories together. While Medina keeps the tension high during the first half of the film, most of the intrigue is spoiled once Insensibles hits the halfway mark, eventually slowing down the second part of the film. It's a shame, because it takes away too much of the atmosphere that is needed to keep a mystery like this going.

While still skilfully made, the second part of the film is more about explanations than it is about mystery. Medina shows a lot of promise though, as the film looks and sounds amazing, cooking up several scenes that will stick even after the end credits have faded. For a freshman effort Insensibles is an extremely well made drama/horror/thriller/mystery, way better than your average run of the mill horror flick and a far cry from the cheap shlock that so often swamps the horror genre. If only he'd spread the mystery a bit wider, it might've been a modern classic.
---
2016 / 109m - UK
Crime, Mystery, Thriller