---
Owaranai Hito: Miyazaki Hayao
2016 / 70m - Japan
Documentary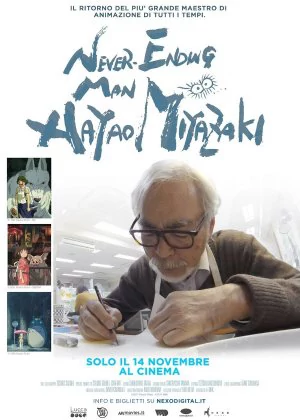 Hayao Miyazaki is a remarkable man. While I love many of his films, I've also been quite critical of others. I didn't always appreciate the weight he put on Ghibli's direction, nor do I always agree with his vision on animation. But there's something about seeing him go about his business that is ultimately fascinating. Never-Ending Man follows Miyazaki in the years after his latest retirement and tracks his way back to becoming a feature film director.
Read all

Miyazaki may come off headstrong, even stubborn, he remains a very humble and down-to-earth man. I was actually quite surprised he allowed the camera to be present when he was learning about CG animation from people who could be his grandkids. It's not really a pretty sight to see one of the most lauded animators living today struggle with a computer, but it feels very genuine and it shows Miyazaki as an inquisitive professional who is still eager to learn, even from people much younger than himself. I did feel for the guy at the end who showed Miyazaki his zombie demo and got trashed, then again he should've seen that one coming.

The more documentaries I see about Ghibli/Miyazaki, the more I admire the role Toshio Suzuki plays in the success of the studio. He truly is the man that makes sure Miyazaki can focus on animation and animation alone, while he takes care of all the tricky bits. Never-Ending Man is a lovely documentary if you're interested in the man behind some of the biggest animation wonders of the past 50 years, even when you've seen other Ghibli docs before. It's not a very loud and showy documentary though, but that's probably why I like it so much.