---
2023 / 140m - USA
Action, Fantasy - Animation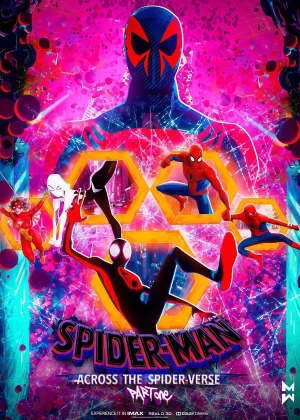 Even better than the first one. The Spider-Man animated films are so far ahead of the competition it's not even funny anymore. Sure enough, Across the Spider-verse has issues. The film relies too much on dialogue to get its emotional core across, and the two-part setup is lame (resulting in a rather dull and disappointing ending). Not all the jokes work out and voice actors like Jake Johnson aren't fit for the job. But unless you're watching this with your eyes closed, it doesn't matter that much. The visual overload, the insane detail and the near-constant attempts to challenge the boundaries of the medium make this one of the boldest and brightest animated films to come out of the USA. An absolute delight.
---
2020 / 100m - USA
Fantasy, Music - Animation
There's a lot of Up-like disappointment in Pixar's latest film. What starts as something quite different, even lovely, quickly turns into typical Pixar nonsense, with cutesy ghosts and fake-emotional afterlife gibberish. It's astounding how afraid Pixar is to make films for a mature audience.
Read all

Joe Gardner is an aspiring artist, but his career doesn't come off the ground and he ends up settling for a job teaching the school band. Joe gets one last shot when an old student of his calls him and invites him for a gig with one of his all-time idols. He aces the audition, but on his way home a fateful accident happens.

The first 5 or 10 minutes are something completely new. More life-like character models, more mature direction (though they need a new editor, as everything feels way too rushed) and themes that feel like they could be quite profound. What follows is a complete mess that ventures in a million different directions. It's a shame they don't seem to be able to get it together, that said, it's quite a step up from earlier Pixar features.