---
1989 / 101m - Japan
Sci-fi, Action - Animation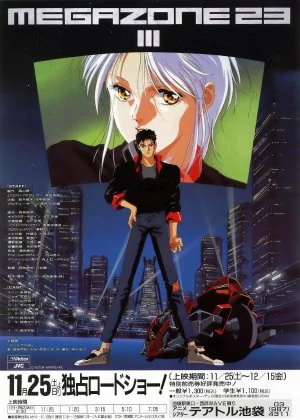 The third part in the original Megazone series is a bit different from the other two. It's a two part OAV that is set several centuries after the events of the first two films. It shares the same universe, but that's about it. People hoping to revisit the same cast of characters will be sorely disappointed.
Read all

The lead character is Eiji Takanaka, a young but talented hacker who is scouted by a group of rebels to act against a mysterious cult. Eiji is sent to the lower parts of Eden, where he learns about the true nature of Eden. The plot is interesting enough, though it takes a while to get up to speed.

The first part in particular is a little slow, luckily the second part rectifies that. It's famed mecha enthusiast Shinji Aramaki's direction that makes the biggest difference though. Characters and drama may be a little plain, the action scene and sci-fi designs are spot on. All in all, good fun.