---
2023 / 99m - USA
Action, Fantasy - Animation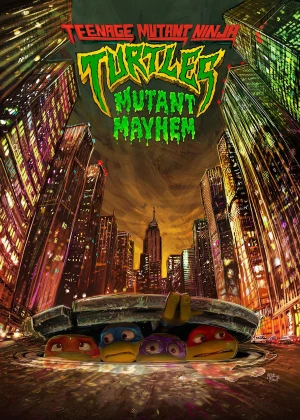 The Turtles are back. Again. But this time, I was actually excited to watch their latest incarnation, as the animation style looked to be something else. It didn't disappoint in that regard, it's a shame the rest of the film was a little lagging. Not that it was terrible, just underdeveloped and a little lazy.
Read all

The Turles are in their teen years and they're tired of living in the sewers. They want to go out into the real world and mingle with people, but Splinter has forbidden them to get involved with any humans. When Superfly is wreaking havoc on the city, they decide to become heroes, hoping they'll be accepted by humankind if they help them get rid of the villains.

The art style is stunning, and it's amazing to see it in motion. The 90s score is a bummer though and the voice acting is pretty bad, as is the juvenile comedy. It kinda comes with the territory, but it still annoyed me (just like the endless name-dropping). The Ghostbusters-like finale was pretty spectacular though. Onto the next part (which brings back Shredder).