---
Bei Xi Mo Shou
2015 / 95m - China
Documentary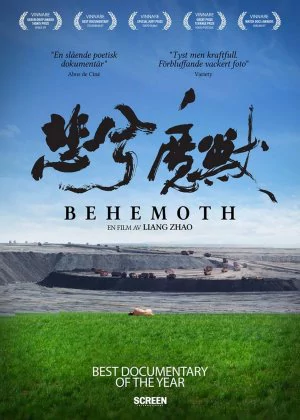 Chinese arthouse is depressing, Behemoth is no exception. It may be a documentary, but the usual rural vs urban friction is there, coupled with some sullen musings, dreary-looking people and a lifeless voice-over. It's one big cliché, but at least there are some pretty shots to soften the blow.
Read all

Behemoth documents the Chinese mining industry and its effect on nature and the miners. The herdsmen have to leave the surrounding areas, dust replaces green meadows and the miners end up in hospitals. It's a barrage of misery and unhappiness, devoid of any hope or solace.

The fractured shots are a bit cheesy, but the camerawork and framing are nice. The cinematography isn't spectacular, but at least above par. The soundtrack is mostly absent, most of the doc relies on ambient sounds, a bit of a missed opportunity if you ask me. It's simply not something I particularly appreciate, but it's clearly how the West loves to see China.