---
2016 / 89m - Belgium
Crime, Drama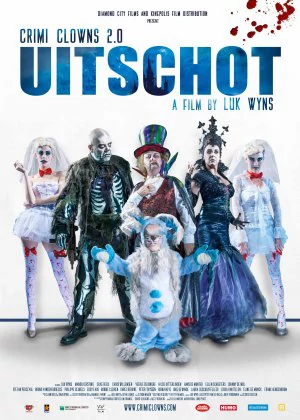 Crimi Clowns is no doubt a franchise that needs something in the way of introduction. It's not the kind of film you casually recommend to someone in the hope that it will magically catch on. First of all, it's a franchise with strong local roots, though I wouldn't call it typically Flemish. It's not as if tons of comparable series and films are being made here on a regular basis. The comedy is quite particular and typical for this region though. Then there is the setup of the franchise, which is also pretty confusing. There's a 3-season TV series and two feature films, but they largely overlap each other. The franchise started out as a TV series, spanning 2 seasons. These episodes were then re-cut to make the first film. This film version was followed by a more cinematic follow-up feature (Crimi Clowns 2.0: Uitschot), which was then fleshed out into a third season.
Read all

The overall quality of the franchise is pretty consistent throughout, but this second film does benefit from a more cinematic approach. Gone are the ugly 4:3 ratio and the rather cheap TV look, though don't go in expecting a fully-fledged cinematic experience. To be fair, the look of the film is supposed to have a more hand-held/home video like quality to it, but it's equally clear this wasn't just an artistic choice. This second film is a real improvement over the first one though, even when its TV roots haven't disappeared completely.

The story is a direct continuation of the first film and even though it's easy enough to follow, I'd advise against diving right into the second film without having seen the first one. The story may not be all that puzzling, but watching the first film will at least give you some kind of grip and context on why there's a family of criminal theater clowns killing and rampaging at will. While there is a clear storyline here, it doesn't make too much sense as it's merely a crutch for the dark and crude comedy on display. Trying to summarize it is going to make it sound even sillier, so I'm not even going to make an effort.

What the film does offer is a crazy, often absurd and pleasantly blunt sense of humor. The characters are all depraved, trashy and crude, the film is violent, unfiltered and off-kilter and most importantly, Crimi Clowns 2 manages to surprise throughout. There are Nightmare before Christmas rip-offs, flashy shoot-outs and gruesome murders, strange clown interludes and mad car chases. It may all feel a bit disconnected and random, but it sure makes for one hellish ride.

Crimi Clows is a strange beast. It's a little like Man Bites Dog, with a little Ex Drummer and Small Gods thrown in for good measure. You can also mix in some New Kids and House of 1000 Corpses if needed, but even all of that only gets you about halfway. Most importantly, it's its very own thing, a film/franchise that needs to be experienced and felt to be understood. It's a tough recommend as it's virtually impossible to predict someone's reaction to it, but if you like your films weird, be sure to give this one a try.
2013 / 102m - Belgium
Comedy, Crime