---
2022 / 113m - Austria
Drama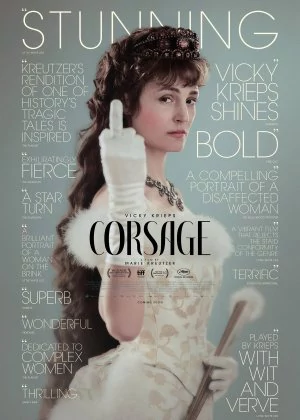 A costume drama with (slightly) more contemporary elements. It's a film that offers a more down-to-earth and sobering take on a famous historical figure, not unlike Larraín's Spencer. While Kreutzer's intentions were good, I don't think the result is quite as strong or outspoken as it could've been.
Read all

Empress Elisabeth of Austria turns 40. She is beloved by everyone, but at 40 she is considered an old woman and she struggles to maintain her public presence. She is very fickle and feels that the respect and love she once received from the people around her are starting to fade.

The more contemporary score was a lovely surprise and the cinematography is solid. Vicky Krieps did a pretty good job too, but somehow the drama and Elisabeth's plight didn't quite hit me the way it was supposed to. It's certainly a step up from most costume drama, but I'd hoped for something a little extra.