---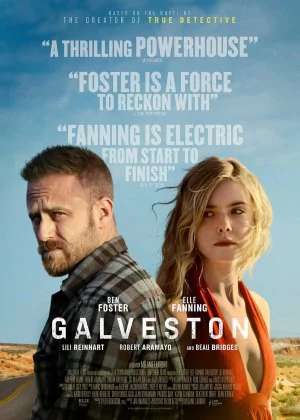 Galveston is Laurent's first American film. Seeing her do a crime drama may be a little odd, though by introducing some slightly unconventional touches, Laurent manages to put her stamp on this particular niche. It's certainly grittier than most of its peers, which is a real asset for this type of film.
Read all

Roy is a seasoned hitman who is set up by his own boss. He manages to avoid the trap and helps out a young escort who just happened to be at the place of the crime. They pick up her little sister and leave town, with no real place to go. Roy wants to get back at his boss, but his time is running out as he's been diagnosed with cancer.

Ben Foster's performance is amazing, Elle Fanning is a bit too over-the-top, especially in the emotional moments. The plot is basic, but the atmosphere is solid and some surprising twists (not so much the plot itself, but certain choices Laurent makes) add spice to the film. It's a shame the finale is so superfluous and Fanning isn't up to the task, otherwise it would've been a very nice film. Now it's just good.