---
Kamyu Nante Shiranai
2005 / 115m - Japan
Drama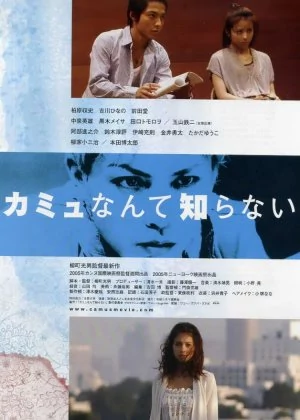 Films about films, not my favorite niche. Who's Camus Anyway fits the genre rather well, with lots of name-dropping, an eagerness to underline the frantic nature of film productions and characters who like to put themselves in the spotlight. This isn't the most original of films, but Yanagimachi does a decent job regardless.
Read all

A lot of classic references here, mostly to the big names of the 50s and 60s. If you like yourself some Godard, Visconti, Truffaut or you love to cite the lengths of famous tracking shots to your film buddies, then you might be the target audience of the film. It's not really what I'm looking for in good cinema though.

Luckily there is some solid drama running underneath all the film stuff. Nothing too out of the ordinary, but a fine cast and some poignant scenes (especially near the end of film) keep the intrigue alive. It's enough to make this a pretty decent watch, but it's hardly a highlight in the Japanese drama genre.