Plain forgettable
Istanbul Kanatlarimin Altinda
1996 / 119m - Turkey
Adventure, Drama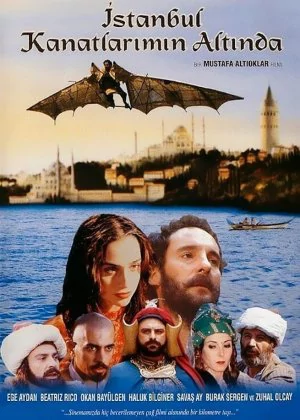 A Turkish genre bender. It's equal parts adventure, drama and comedy, though the latter may just be a result of its somewhat daft and flimsy presentation. It's an odd experience no doubt, one that feels like a semi-serious attempt to make something epic, but never quite gets there.
Read all

Four men are living in 17th century Istanbul, their ultimate dream is to fly. Their experiments aren't very successful though, and the people in Istanbul aren't all that supportive. Hezarfen, one of the four men, also tends to an Italian slave. The two fall in love with each other, and she becomes Hezarfen's biggest fan, cheering him on as he tries to realize his dream.

Altioklar clearly made an effort to make something unique, but the technical skills seem to be missing. The costumes and setting look very drab, the performances are poor, and the special effects are quite terrible. At least things get a bit funnier during the second half, but not enough to save this film.