---
Edogawa Ranpo Ryôki-kan: Yaneura no Sanposha
1976 / 76m - Japan
Mystery, Horror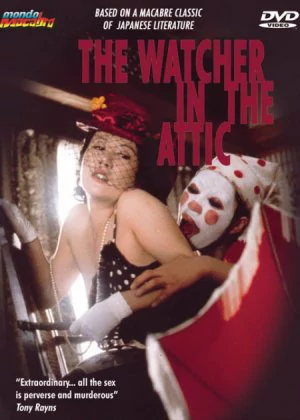 A decent Rampo adaptation. The film is a little reminiscent of the Midori films, but not quite as weird or insane. Rampo isn't really known for extremities of course, but someone like Jissoji is a bit better suited to his overall style. Even so, Tanaka's The Watcher in the Attic is well worth a watch.
Read all

The title of the story is pretty self-explanatory. Gouda rents out rooms in his home and loves to go into the attic to spy on his tenants. One day he catches a prostitute who murders one of her clients. Rather than call in the murder, Gouda feels attracted to the woman, and soon after they become a lethal duo.

The film's pinku roots get in the way a little, but there was enough freakiness and perversion to keep me interested. The runtime is short, performances are decent (with a notable part for a young Renji Ishibashi) and there are a handful of memorable moments scattered throughout. Not the greatest, but fans of Rampo's tales won't be too disappointed.