---
Mideunaiteu
2021 / 103m - South Korea
Thriller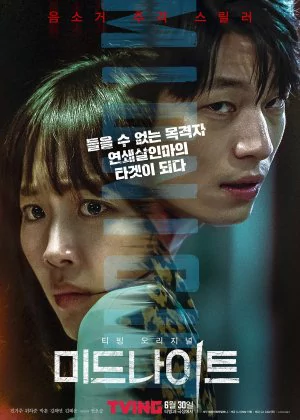 A fine South-Korean thriller. I've seen it compared to Flanagan's Hush, which is not a bad point of reference. Except we're dealing with two mute characters here, who aren't confined to their home, but are running around town instead. It's a clever spin that makes the film a touch darker still.
Read all

After walking home from a work party, Kyung Mi (a deaf/mute) bumps into a dangerous psychopath. A young guy who stalks women and kills them just for the fun of it. Kyung Mi is crafty and manages to escape, but when she tries to warn others, she fails to communicate the dire situation she finds herself in.

The film has some pretty tense scenes, even though writer/director Kwon does need some forceful interventions to keep the cat and mouse game going. The film could've been a bit shorter, especially the extension at the end felt a bit unnecessary, but a powerful performance of Wi Ha-Joon and an intriguing premise make for a nifty little thriller.