---
1969 / 142m - UK
Action, Thriller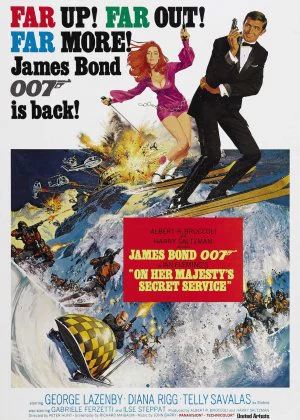 This 6th film in the Bond franchise sees several big changes, none of which made the film any better. It's the first Bond where Connery was replaced in the lead (though he would return for the next one), it was the first (and final) Bond film helmed by Hunt, it was also the longest Bond film at the time. All signs of a franchise struggling with its identity.
Read all

The plot is a typical Bond affair. After saving a woman from committing suicide, Bond is asked to marry her by her father. In return, he gets vital information that will lead him to Blofeld, his arch enemy. A timely deal, as Blofeld is ready to unleash a deadly virus on humanity. And of course, only Bond can stop him.

The film is a little less goofy compared to the earlier entries, coupled with the longer runtime it makes for a less enjoyable film. Lazenby doesn't really have the necessary flair either and there's a bit too much focus on the romance. At least there are a few fun and memorable action scenes, but still one of the lesser ones so far.