---
1993 / 90m - UK
Action, Adventure - Animation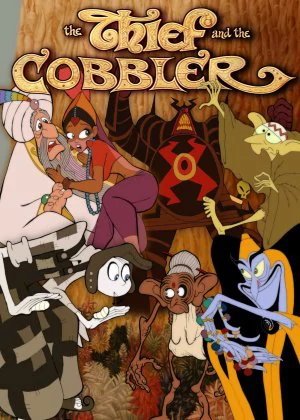 A film that took 29 years to finish. Ambitious animation and lack of funding took its toll on The Thief and the Cobbler. The result is pretty impressive, even though attempts to release the film in theaters failed to draw in audiences. It's not your typical Disney animation, which is no doubt why people didn't really take to it right away.
Read all

Golden City is a wealthy city protected by three golden orbs. When the orbs are stolen, death and destruction will follow, so when the king notices the orbs are gone he sends his daughter and a young cobbler on a mission to return the orbs as quickly and safely as possible. It's the start of a crazy adventure.

The animation is great. It's lush, innovative and sports an interesting art style, though because of the long production time it can be a little inconsistent. The plot isn't too original, but it's a fun enough adventure that introduces some fun and quirky characters. If you consider yourself an animation fan, well worth seeking out, just make sure to watch the Recobbled cut.