---
1994 / 133m - USA
Drama, Crime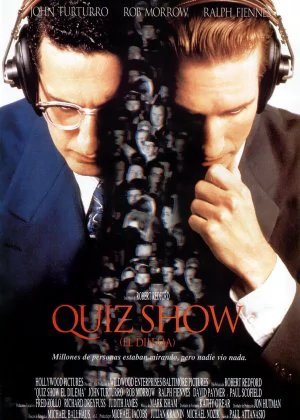 A big Hollywood drama, tackling the corruption of a popular TV show (based on a true story of course). Directed by Robert Redford, it's a film with few surprises, but considering the cookie cutter template it's actually not a bad effort, thanks to some inspired performances and a decent pacing.
Read all

Herbie Stempel is doing well on the Twenty-One quiz show, until the producer approaches him and tells him to take a dive. The ratings have stabilized, and the makers want Van Doren, Stempel's opponent, to win the next game. Stempel resists, but the promise of a future talk show makes him change his mind. When that show never materializes, Stempel is furious.

If you need a film to tell you that TV is fake, then Quiz Show will provide you with all the material you need. The direction is somewhat expected, and the film doesn't take any real chances, but Fiennes and Turturro are both pretty good. Not a very remarkable film, but not quite as cheesy and pushy compared to similar Hollywood dramas.
---