---
1972 / 117m - USA
Adventure, Thriller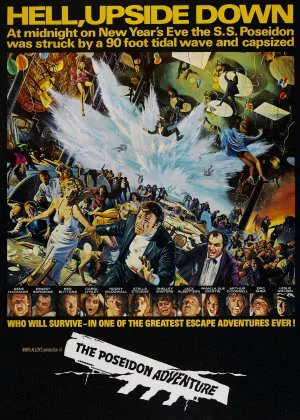 One of the classic disaster movies. It's a pretty simple film, with a relatively short introduction that quickly introduces the characters. The moment of the disaster isn't all that spectacular either, instead the film focuses on a small group of people and their perilous adventure to safety.
Read all

The Poseidon is a big cruise ship. An earthquake and the subsequent wave put the ship upside down in the water. The survivors have only way thing to do: climb up the decks towards safety. Meanwhile, the film is slowly filling up with water and fires are raging everywhere. And so the survivor countdown begins.

Almost all scenes are filmed inside the ship. This could've resulted in a claustrophobic atmosphere, instead, it highlights the stage-like setup and comes off rather fake. There's also a bit too much bickering between the survivors, especially since most of them mistook shouting for acting. A handful of decent scenes make it a passable affair, but if you're after nail-biting suspense, you won't find it here.