---
Nerawareta Gakuen
2012 / 107m - Japan
Animation, Romance, Sci-fi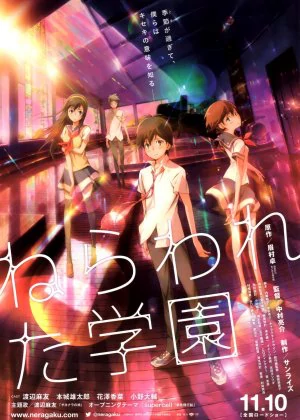 Considering the success a director like Makoto Shinkai is enjoying these days, it surprises me how few people are trying to follow in his footsteps. Shinkai has a pretty recognizable style that's proven to be popular, so you would at least expect more animators to try something in that direction. Well, the wait is over. Ryosuke Nakamura's Nerawareta Gakuen isn't a carbon copy Shinkai, but Nakamura's source of inspiration is unmistakable.
Read all

Detailed backgrounds, thin characters, an overdose of colors, strong focus on lighting and a myriad of lens flares effects. Nakamura takes it a couple steps further though, effectively delivering a film that's even less subtle than Shinkai's work. It may not look incredibly stylish or classy, but it is strangely appealing and at times downright overwhelming. The animation quality is pretty high too, with nice character animation and some pretty decent special effects throughout.

The film itself does have a few typical anime defects. Nerawareta Gakuen is at its best when it embraces the lazy summer atmosphere that lingers in every corner, sadly the film has a pretty ambitious storyline that never really manages to inspire. Instead of keeping it simple and leaving it at a simple teen romance, the film drags in a story about time travel and psychic powers, dredging up a battle that I wasn't particularly interested in. It's a bit too complex for its own good and because of that the film takes on 20 extra minute it didn't really need.

Still, the visual appeal remains strong and managed to get me past all the needlessly convoluted parts as the ending draws near. Nerawareta Gakuen isn't a future anime classic, but it's damn pretty to look at and it manages to get by on that trait alone.