---
2007 / 99m - USA
Crime, Thriller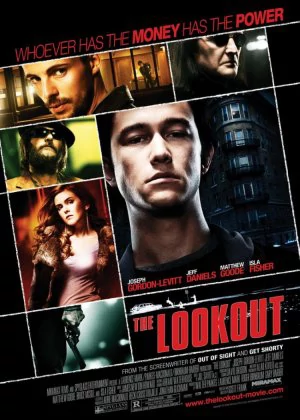 Script writers re-schooling themselves to becomes directors, it's not always an ideal career switch. But some of them manage to beat the odds and come up with a film worth watching. Back in 2007, Scott Frank (screenplay credits for Out of Sight and Minority Report) jumped at the opportunity and directed his first feature film: The Lookout.
Read all

Back then I wasn't so much interested in Frank as I was curious to see the new Joseph Gordon-Levitt film. With movies like Brick and Mysterious Skin Gordon-Levitt was making a name for himself and it was refreshing to see a young kid take up these challenging roles. But for some reason or another, I never got around to watching The Lookout and as time passed by (and Gordon-Levitt went on to star in film like 500 Days of Summer and G.I. Joe) I forgot all about this film.

Until last week that is, when it suddenly popped up again. A little hesitant (7 years is quite a long time) I sat down to see if I missed out on something back then. And sure enough, Frank's first is a more than adequate film that hooked me from start to finish. It may be a bit slow and a little too understated to conform to mainstream tastes, but it provides 100 minutes of solid drama and intrigue.

Gordon-Levitt (Chris) stars as a once successful kid, brought down by a car accident he caused back in high school. Suffering from frontal lobe syndrome (Dirty Mind is a good recommendation if you want a lighter take on the subject), he tries to pick up the pieces of his life , but moving on is proving a lot harder than expected. Until he meets up with Gary, a peculiar guy who offers Chris an easy way out.

The Lookout is one of those films that does everything well. There's really not a single point of critique I can give, apart from the fact that it doesn't truly excel either. The acting is solid, the pacing deliberate, the atmosphere moody. There's enough intrigue and it's far from predictable, but in the end it never truly moved or amazed me. In other words, perfect filler for those moments when you don't have anything special to watch.
---
2014 / 114m - USA
Crime, Thriller