---
2014 / 88m - Latvia
Comedy, Drama - Animation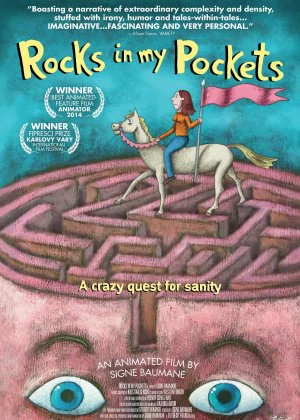 Signe Baumane tackles her troubled family history and her own mental health through the creation of an animated feature film. It's a highly personal story brought with a surprising level of wit, but the English narration is excruciating, and the animation quality is disappointing, undermining the entire film.
Read all

Anna is a young woman who falls in love with a businessman 30 years her senior. Their love runs deep, but Anna's husband gets jealous and moves her to the forest, where she gets 8 kids. Years later, Anna's granddaughter asks her father about Anna's death, suspecting that she killed herself.

I haven't found a trailer or excerpt from the Latvian version, but Baumane's English narration is simply horrendous. The animation is very bland too, it feels more like an afterthought, something that moves for people to look at while they listen to Baumane's story. It's a shame not more effort was put into the presentation, as it is now, it's better suited as a radio/podcast recording.