---
Rupan Sansei: Kutabare! Nastradamus
1995 / 100m - Japan
Crime, Comedy - Animation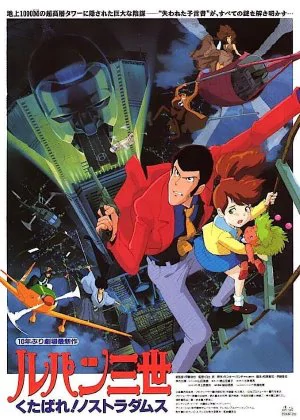 As a longtime anime fan, a more serious exploration of the Lupin film catalog was long overdue. I'm not going to do it chronologically, so I ended up with Farewell to Nostradamus as my starting point (of this current push that is, I've already seen some of the more prominent Lupin films throughout the years).
Read all

Farewell to Nostradamus is a bit crazier than the other entries I'd seen so far. It's incredibly action packed, with Lupin landing in all sorts of outlandish situations. Lupin isn't a stranger to a bit of weirdness, but the combination of sci-fi, mysticism and over-the-top action in a single film was new to me.

The quality of the animation is decent, definitely not up to par with the best in the series though it gets a bit better near the end. All the craziness makes it feel a bit fragmented too, at the same time it ensures there isn't a dull moment to be found. Not the best Lupin film I've seen, but very amusing, light entertainment.