---
Am Faa
1998 / 81m - Hong Kong
Action, Crime, Mystery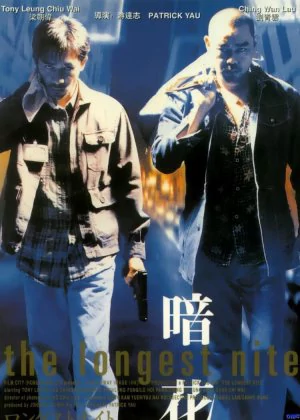 Tat-Chi Yau. Who is he, where did he come from and where did he go? That's what I've been wondering after seeing two films of him last week. I've seen quite a few Hong Kong films the past couple of years, but somehow Tat-Chi Yau never appeared on my radar. That's more than just a little odd, considering the talent he worked with (Tony Leung Chiu Wai, Simon Yam, Eric Tsang, Takeshi Kaneshiro, Ching Wan Lau, Francis Ng). And that's just for a total of 4 feature films, directed between 1997 and 2001.
Read all

If you know a thing or two about Hong Kong cinema, you may look at the dates and think "Oh, but that's a pretty dire period for Hong Kong films". Fair enough, but apparently Yau's films didn't suffer from the industry's local depression. The two films I've seen so far (that's 50% of is his feature film oeuvre) are well above average, even signalling Hong Kong's return to form during the early '00s. So why didn't Tat-Chi Yau's career take off? Well, your guess is as good as mine, the fact of the matter is that he made at least two worthy films, one of which is Um Fa [The Longest Nite].

Um Fa feels almost like a stepping stone to Johnnie To's '00 successes. That's not even all that far-fetched if you consider To produced Yau's first feature film only one year earlier. At its core, Um Fa is a pretty simple Triad film, resulting in a game of cat and mouse between the police and a killer hired by the Triads. Tony Leung Chiu Wai takes on the role of stone cold cop, Ching Wan Lau is the ruthless killer.

Leung and Lau are excellent, but it's Yau's deliberate direction that stands out. A remarkable soundtrack and lots of visual prowess complement Yau's flair and make Um Fa a film to remember. All of this comes together in a kick-ass finale, where the stand-off between Leung and Lau reaches a more than satisfactory conclusion. It would take To a couple years longer to reach the quality of Um Fa's finale, which is saying something.

Tat-Chi Yau is one of the mysteries of Hong Kong cinema. If you're a fan of Johnnie To's 21st century films then I can wholeheartedly recommend Yau's films, Um Fa in particular. I'm not sure why his films haven't garnered a greater following or how I could've missed his films for so long, but I'm glad that wrong has been righted once and for all.
Liang Ge Zhi Neng Huo Yi Ge
1997 / 89m - Hong Kong
Crime, Comedy
---
Fai Seung Dat Yin
1998 / 87m - Hong Kong
Crime