---
Naboer
2005 / 75m - Norway
Thriller, Mystery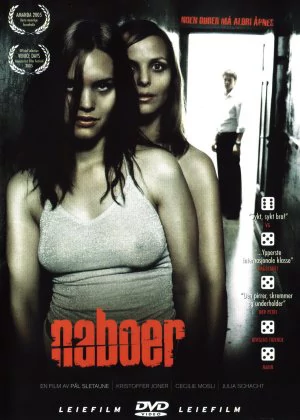 One of those films I've been meaning to watch ever since it was released, but somehow never got around to. Next Door spearheaded the Norwegian leg of the European horror wave, though it's more of a psychological thriller with strong mystery elements and a dark undertone, which made people lump it together with the more prominent horror films.
Read all

There's a bit of Lynch in here, also a bit of Reconstruction and maybe even some Bound. Sletaune's film feels more than a little derivate, but that's probably because he fails to uphold the mystery for the entire length of the film. Halfway through the clues become a bit too obvious, which kills part of the atmopshere.

The first half is cool though. Performances are strong and unsettling, the styling is on point and the mid-film climax is pretty tense. The length is also perfect, it's just a shame that the mindfuck never reaches its true potential and that the second half is a bit too quick to reveal the film's secrets. Still, worth a shot if you're looking for something disturbing and twisty.