---
Yan Yuk Cha Siu Bau II: Tin Jue Dei Mit
1998 / 91m - Hong Kong
Crime, Horror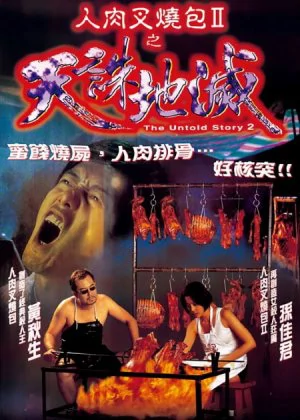 The first and third film are pretty decent, no doubt because Herman Yau was involved as a director. This second part was directed by Yiu-Kuen Ng and takes a pretty serious nosedive. Though the setup of the film isn't that different from the others, the direction feels weak and the thriller/horror elements are pretty ineffective.
Read all

A pretty demure and timid girl turns out to be a lot less restrained than initially apparent. When she sees her crush being mistreated by his girlfriend, she invades their lives and takes her place in the most horrific way possible. The highlight of this film are the gruesome killings, even though they are still quite tame compared to the first film.

The drama and thriller elements simply don't work. Performances are weak (except Anthony Wong's, but he has a smaller part), the cinematography is basic and there's no real tension to speak of. The film feels flimsy and disjointed and apart from some individual moments, there nothing that hints at quality film making. Pretty disappointing.