Saam Gaang Yi
2004 / 125m - Hong Kong
Horror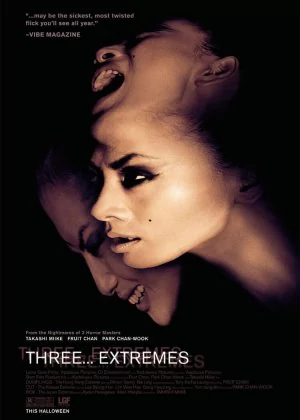 Sequel to the famous horror anthology that repeats the setup of the original and brings together three respected directors from three different Asian countries. Takashi Miike represents Japan, Fruit Chan is there for Hong Kong and Chan-wook Park is the South-Korean delegate. It's also my order of preference.
Miike's short is by far the most eye-popping. Though Miike has a reputation for being weird and extreme, Box is quite the opposite. It's a very subdued, stylish and classy short that demonstrates once again there's really nothing Miike can't do. If he had expanded this to a full-length feature, it would no doubt be one of his very best films.
Chan's Dumplings is a nasty little short that looks gorgeous (thanks to the help of Christopher Doyle), but works better in its feature-length form. Finally, there's Park's entry, the only big disappointment of this anthology. Not that I expected a lot, but it comes off really bland and uninspired compared to the other two. Still, if you're looking for a neat and varied horror project, you can't really go wrong with this one.