1935 / 86m - UK
Crime, Thriller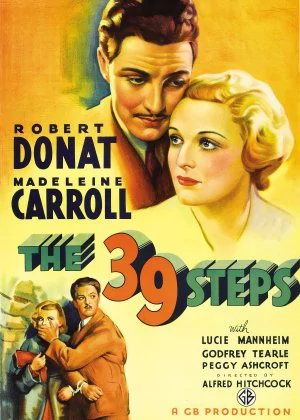 I'll never be a big Hitchcock fan, but I clearly prefer it when he keeps it short and simple. There's also a bit more wit here compared to his later films, though it doesn't make that much of an impact. At least the British vibe makes the comedy a bit more palatable, apart from that it's just trademark Hitchcock.
Richard Hannay tries to help a counter-espionage agent after a row in a theater, but when she gets killed he suddenly becomes the prime murder suspect. He decides to flee into the Scottish Highlands, but soon finds himself chained to a blond vamp who believes she's dealing with a real killer.
Performances are decent but a little stiff, the comedy isn't tremendously funny but acceptable. The story is pretty bland though and the intrigue didn't really capture my attention. It's a good thing this is a pretty short film, if it'd run closer to 120 minutes then I sure would've disliked it a lot more.