Iskanderija, Kaman oue Kaman
1989 / 100m - Egypt
Drama, Comedy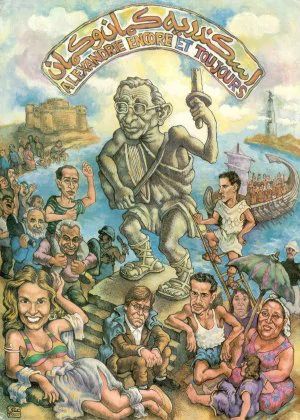 My experience with Middle-Eastern cinema is pretty limited. I do know that Egypt has a relatively rich cinematic history, but I haven't seen many films from that area in general. Chahine is a name that keeps popping up though, so when I got the chance to sample some of his work, I took the jump.
Yehia is an Egyptian filmmaker. When Egyptian film crews are going on a strike, it triggers him to revisit his career. He ponders why he lost contact with Amr, the star of his first films. Was it the commercialization of cinema that pulled them apart, or was it the beautiful Nadia that drove a wedge between them?
It's nice to see a Middle-Eastern film that isn't pure drama. There's a lighter vibe to the film, especially when Yehia revisits some of more commercial efforts. The film is nicely shot and there are some striking moment, still, the overarching drama didn't do much for me and the film ended up being a bit too long to be truly enjoyable.