2021 / 96m - USA
Comedy, Crime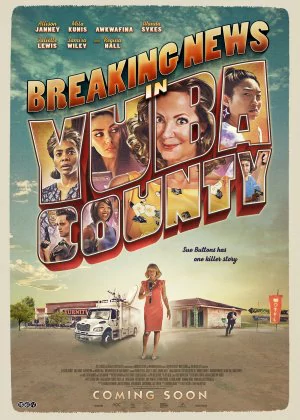 A good, old-fashioned dark comedy. Take a cast full of goofs and fuck-ups, add an accidental crime, and let things spiral out of control as people keep digging deeper graves for themselves. It's a common setup, Taylor does well with it, but he lacks that little nasty edge that makes a film like this truly worthwhile.
Sue Buttons is a ghost. Nobody notices her, people forget about her all the time, and her husband is cheating on her. When she catches him in the act, he dies from the shock. Sue buries him and decides to make the most of it, so she calls the local news station and offers them her story.
The cast is solid, and the plot keeps getting more and more complex by the minute, but the somewhat chirpy and subdued vibe keeps it from going all in. It's just a bit too soft and nice, apart from just a handful of moments near the end. There are a couple of laughs here, I just wish Taylor had committed just a bit more to the dark side of his film. Not bad, but could've been so much better.