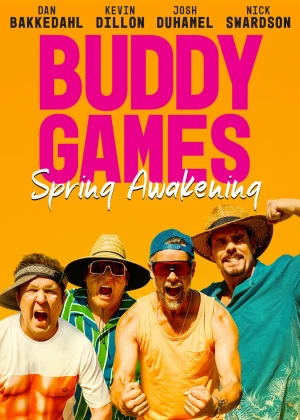 A loose sequel. The Buddy Games themselves (what's in a name) are pretty much gone this time around, instead, the film offers a new adventure for the same group of friends (minus one, the plot killed him off). It's not the best premise and the film is wildly uneven, but there's still some fun to be had.
Durfy died trying to become an actor, his best friends kidnap his urn and take it to the place where he had the best time of his life. When they arrive there, spring break is in full swing. The place brings back old memories and they remember Durfy had a vacation crush. A local bar owner tells them she's still in the neighborhood, so they decide to pay her a visit.
The plot is all over the place and the comedy is a bit cheap. Endless woke jokes and a childish focus on drugs and alcohol get tired pretty quickly, but the light and breezy mood makes it somewhat bearable. A step down from the first film (which wasn't all that great, to begin with), but at least it's another core comedy. A rare breed indeed.