Ikuta no Kita
2021 / 64m -
Animation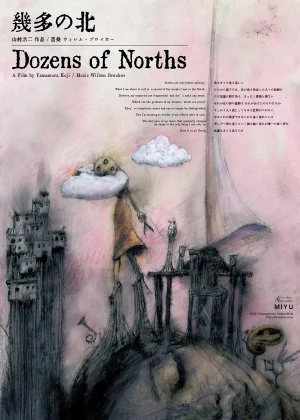 Yamamura is best known for directing shorts, this is his first longer film. It's probably easiest to describe it as an arthouse version of Cat Soup, a surreal road movie that is more a succession of random scenes than it is a logical narrative. It's not going to be everyone's cup of tea, but I definitely appreciated the artistry and creativity on display here.
There's not much in the way of an actual plot here. The "dozens of norths" referred to by the title are different places the two main characters visits, each wildly different from the next (there's a bit of Kino no Tabi in here too I guess). Accompanied by some poetic textual descriptions, each place has its own story to tell.
The animation style feels more European than Japanese, but the drawings are intricate and imaginative. I was less impressed with the score, which is very classical in nature, and was distracting more than once. Still, Yamamura serves an intriguing, surreal journey that was well worth undertaking, I like this format better than his shorts.